Idol Family Fellowship equips students for the virtual workplace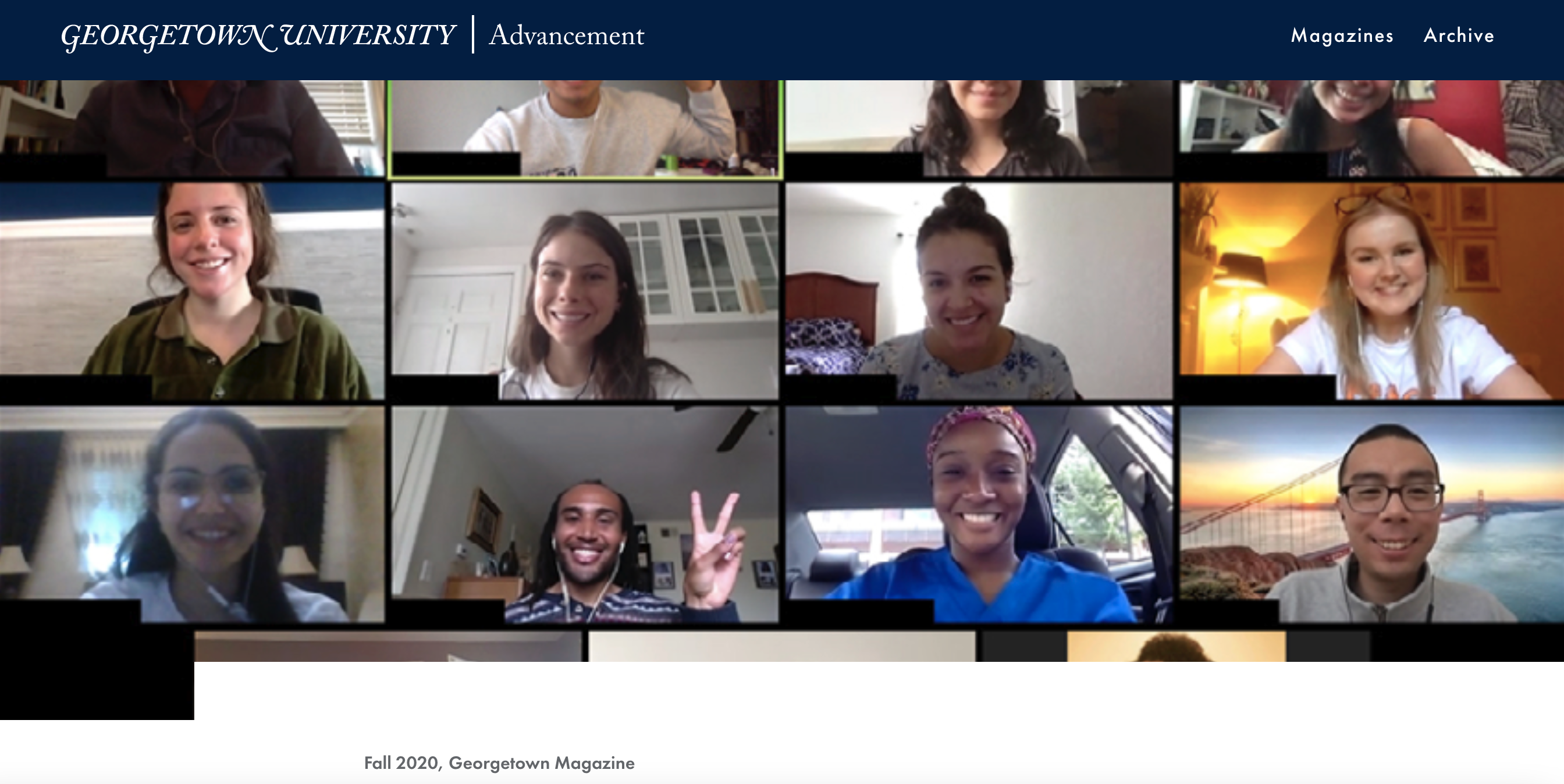 The Idol Family Fellowship Program awards stipends to cover the cost of housing and transportation and connect interns to a network of alumni who offer professional advice. The coronavirus forced many fellowship participants to work remotely, so the program modified the stipends to match their needs.
Malak Abusoud (SFS'22), a research intern at The Middle East Institute in Washington, said she would not have been able to spend the summer exploring Egyptian security and economic policy without the additional help.
"The fact that I was able to have the resources to pay for my accommodations and have stable housing throughout the summer during COVID-19 is incredible," said Abusoud, an international economics major from Jerusalem who lived in Washington in housing provided by the fellowship program.
Melissa Foy (C'03), director of the Georgetown Scholars Program, said the Idol Fellowship has been a critical resource for first-generation and low-income students seeking professional advancement opportunities.
"Every year my staff and I see students struggle between the short-term need for money and the long-term benefit provided by these internships," Foy says.
"It can be really hard to apply to unpaid internships, and most internships tend to be unpaid when you are entry-level," Abusoud says.
"The Idol Fellowship really helped me in my internship because I wasn't really stressed about whether I could find food or housing."
Students compete for the Idol Fellowship through several rounds of interviews with previous participants in the program. Eleven students were chosen this past February, and after the pandemic hit, the Idol team helped students find remote internship opportunities.
Glen Waters (C'21), an African American studies and English major from Dallas, who spent the summer working remotely as a research intern at the National Black Worker Center Project, said he found the support network of alumni available through the Idol Fellowship invaluable.
"It was amazing to be able to have this access to a repertoire of professionals who have resources and are able to talk to you," says Waters, who created a mixtape to help Black workers understand their rights during the pandemic as part of his summer work.
The fellowship is funded by a $5 million gift from the Idol family, whose members have strong connections to Georgetown. John Idol, father of Christina (C'14), is a former member of the Board of Directors, Board of Regents, and College Board of Advisors.
"Our family believes that education and access to professional development opportunities that serve as a training ground for future employment will help create advantages for first-generation students at Georgetown," John Idol said.
The Idol Fellowship will provide support in-person in Washington next summer in collaboration with the Capitol Applied Learning Lab (CALL) initiative run by Georgetown's Designing the Future(s) of the University initiative.
The partnership will give fellows access to professional development seminars, networking opportunities, mentoring, community service options, and social events during their internships.